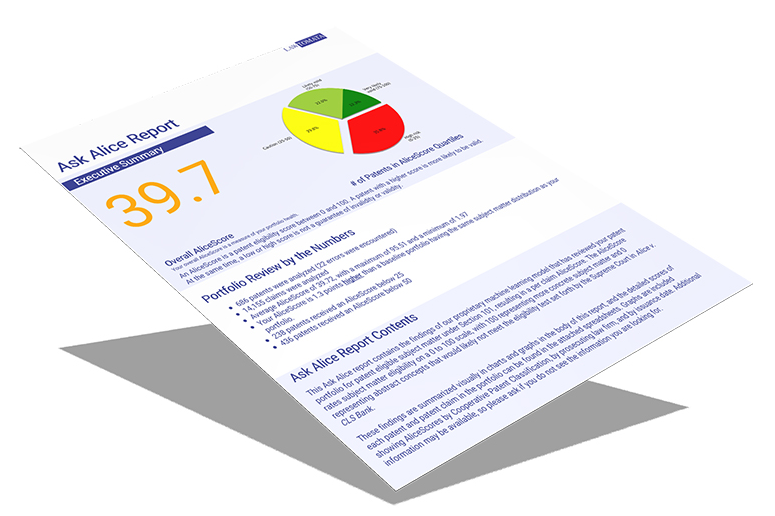 Find the weaknesses in your patent portfolio
Use our Ask Alice™ AI engine to identify where you need to improve your portfolio in light of the Supreme Court's Alice decision.
The next time your boss asks you about the health of your patent portfolio, you can answer her based on the latest legal guidance. Let us give you the tools to recommend the best course of action for new patents to pursue.
Automated vs Manual Review
Ask Alice™
✓ Objective: reviewed by an artificial intelligence trained on Examiners' Office Actions
✓ Rapid results: one-week turn around guaranteed for any size portfolio
✓ Efficient and Cost-effective: less than a quarter of the cost of a typical legal review
✓ Robust, quantitative results easy to translate into action
✓ Up-to-date advice: our artificial intelligence continuously learns based on the latest USPTO decisions and case law
Manual Law Firm Review
✘ Review is subject to law firm's or individual lawyer's biases
✘ Tedious process: For significant portfolios, over one month's work
✘ Cost-prohibitive: $20-100,000+ depending on the size of the portfolio
✘ Qualitative results that are hard to compare and act on
✘ Heuristics-based advice: lawyers are great, but their judgment is based on human heuristics and shortcomings
---
Why use the Ask Alice™ tool?
We are patent attorneys
Our company was founded by patent attorneys with over 20 years of experience, and we have built an artifical intelligence system that provides patent portfolio guidance that we trust for our own clients.
Objective
You need objective facts without waffling, and a numerical score that allows easy comparison against other patents in your portfolio. Moreover, you need to have a way to evaluate your patents without worrying about who patented what.
Time and money efficiency
You need to have a way to analyze your portfolio efficiently, without having a patent attorney review every single claim of every one of the patents in your portfolio.
Frequently Asked Questions
Cover Page of Sample Report